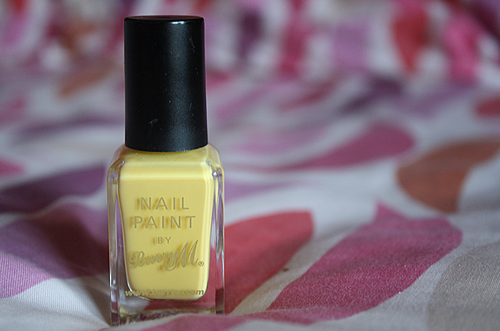 Summer's just around the corner - out come the pastel Barry M polishes. I bought this shade a year or so ago thinking I'd wear it all the time, but the truth is, I wore it once and it got on my nerves after a couple of hours.
Although the colour is lovely, I just don't think it suits my nails. If I wore with the right things and just for one day, maybe, but as far as an 'everyday' polish that goes with anything goes, this just doesn't do it for me.
The first application was really watery and see-through, but this isn't abnormal with Barry M polishes, and I do find that after 2 coats, it looks perfect and doesn't chip easily, so I don't mind applying 2 coats. This colour, however, needed 3 which just made it really gloopy and sticky and took AGES to dry. I ended up smudging it on my other hand whilst taking this picture, and it'd been on for a good 10 minutes at this point. Not too great if you're in a rush.
It's funny, because Barry M are my 'go to' polish - I rarely go anywhere else unless it's OPI, and they're just a bit too pricey - but this one I don't think I'd particularly recommend. At the end of the day, it's only £3.99 a bottle. You're not breaking the bank. So if you fancy giving it a try, go ahead. Maybe I just got a dodgy bottle!